Contact Carson Elevator for Elevators in Salt Lake City, UT
Spruce Up Your Property with a New Elevator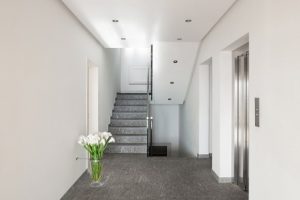 Owners of low-rise commercial properties without an elevator often face difficulties. And, it doesn't always seem to make sense to install one. For one thing, is installing an elevator in a two- or three-story building sensible? The answer: absolutely. Due to technological advances, it's more possible than ever to install an operational and aesthetically-pleasing elevator system in shorter structures. Hydraulic low-rise elevators offer the opportunity for property owners to improve their business, enhance the work experience of their employees, and impress their clients. Carson Elevator knows how to install these elevators.
The Benefits of Installing an Elevator in a Low-Rise
Why should you install an elevator in your low-rise office park? It's a fair question. Many of our customers are uncertain when they first contact us, so we're more than happy to explain the benefits of moving forward with a hydraulic low-rise elevator project. If you choose to do so, you'll reap a collection of benefits, all of which will make your company more efficient. The benefits of investing in a new elevator system include:
Security: As a property owner, you have a vested interest in preventing slips-and-falls, trips, and tumbles down the stairs. If you don't have an elevator, then your risk exposure increases each time a client or customer walks up the stairs. Installing an elevator minimizes your risk.
Accessibility: Unfortunately, buildings without elevators prevent those with disabilities from accessing your company. In addition to posing a hardship on another person, this harms how your company is viewed and reduces your profit opportunities. An elevator can help.
Efficiency: If your employees must dash from floor one to floor two or three, then you're wasting valuable time and energy. Instead of relying on stairs to ferry important documents from one location to the next, install an efficient low-rise elevator to cut down on in-office travel times.
Value: A hydraulic low-rise elevator will be a boon to your property's overall value, and that's something all building owners should concern themselves with. We can install a great looking and functional elevator in your office, one that enhances how much your property is worth to potential buyers.
Aesthetics: We can also replace existing elevators. Do your elevator doors open impossibly slow? Do the keycard functions malfunction? Does travel from one floor to the next seem to take an eternity? Beyond inconveniencing everyone who visits, these factors can harm your image. A new, beautiful elevator makes a big impression.
Low-Rise Hydraulic Elevators Provide Benefits for All
Once you decide to purchase and install an elevator, you'll need to decide which option is best for you. The two most common are traction and hydraulic models. For most owners of low-rise buildings, the hydraulic option will be more beneficial to their business for several reasons, including:
Installation time: Installing the elevator system will, unfortunately, provide some disruption to your daily operations. Fortunately, low-rise hydraulic elevators are straightforward to install. When you combine their simplicity with our experience level, they're the best option for business owners on a time crunch.
Upfront and long-term costs: Compared to traction elevators, hydraulic systems are cheaper to install, and their maintenance costs are cheaper. As a result, a hydraulic elevator for your low-rise building will be a more economical option.
Customization: Carson Elevator can install cabs of various sizes, meaning you'll be able to select one whose maximum load occupancy meets your needs. We'll work with you at the outset of the project to determine what you require.
No excavation needed: We won't have to excavate the earth underneath your property or dig a well to install an elevator when you choose a hydraulic model. One of the biggest benefits of low-rise hydraulic elevators is the way they are designed, which eliminates the need for costly digging.
Alliance Elevator Solutions Low Rise Hydraulic Elevators
Alliance Elevator Solutions is the supplier we use for low rise hydraulic elevators. They have extensive experience and use the latest technologies.
Alliance Brochure
Contact Carson Elevator for Lift Services Today
We're proud to offer not only elevator installations for commercial properties but for residential buildings as well. In addition to sales and installation, our team can repair existing elevators to get them running perfectly again. When considering an elevator, it is always important to consult a general contractor first to determine the best location for the elevator. The contractor will then relay that information as well as the specific measurements. The contractor will help you pick out your finishes as well. To learn more about Carson Elevator, feel free to contact us.
Utah's Elevator Experts
Free Consultations
Locally Owned & Operated
Over 30 Years of Experience
Non-Proprietary Equipment
Residential & Commercial Services
No Long-Term Service Contract Required