Elevator Services in Salt Lake City, UT
Fast and Reliable Elevator Services by Carson Elevator LLC
If you're a Salt Lake City, UT resident and looking for quality elevator installation services for your commercial or residential property, Carson Elevator LLC is here to help. For more than 30 years, our skilled contractors have delivered the best elevator repair, installation, and maintenance services around. We offer non-proprietary equipment intended to save customers money, allow for easier servicing, and bring the best possible value to your building. At Carson Elevator LLC, you can trust us to provide honest elevator services that work with your timeline and budget.
Top-Quality Elevator Repairs
At Carson Elevator LLC, we offer unmatched elevator services. Not only are no long-term service contracts required, but we have some of the most competitive rates in the business. Did we mention some of our services options are even available 24/7? When you've been in this industry as long as we have, you learn to understand how to accommodate to customer's needs. That's why we strive to offer exceptional customer care backed by fair and comprehensive contracting solutions. The high-quality elevator services we provide to our Salt Lake City, UT residential, and commercial property owners include:
New Elevators – If you're looking to install a new elevator in your residence or business, we offer several quality elevator installation and elevator repair products to fit your specific needs and budget.
Elevator Repairs – No one likes it when an elevator is out of service. If you're dealing with this inconvenience, our team will work quickly to get your elevator back in working condition.
Elevator Maintenance Plans – Proper maintenance of elevators is one of the best safety measures you can take. Protect yourself, your wallet, and those using your elevator with these plans to prevent damage.
Carson Elevator LLC's hydraulic Elevator Design
We strive to make it as simple as possible for our Salt Lake City, UT customers to choose the best elevator installation for their residential or commercial property. Below, we have provided a breakdown of our most popular options as well as some key features of each so you can pick what suits you best.
In-Ground Hydraulic Elevators:
This type of traditional elevator design has been used for many years. With hydraulic in-ground elevators, a single-stage hydraulic jack is installed in the ground and located directly under the car, near the center of the platform. The jack is protected from the ground using a polymerizing vinyl chloride (PVC) liner.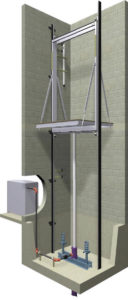 The benefits of hydraulic in-ground elevators include:
The material cost is less expensive than all other car types
It is the easiest to install
It is available in a low capacity as well as high-capacity applications
Heavy freight cars are typically in-ground
No extensive pit or overhead is required
Accommodates front and rear openings in any configuration
Holeless Hydraulic Elevators:
This design utilizes two jacks, one on each side of the car, positioned between the platform and the hoistway wall. Holeless hydraulic elevators usually only accommodate five levels or less, making them ideal for smaller buildings. Single-stage jacks are used for low travel, typically on two-stop cars up to 14 feet. Two-stage jacks are used for travel up to 28 to 30 feet (usually three to four stops).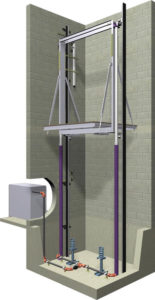 The benefits associated with holeless hydraulic elevators are:
No jackhole is required
Save money on drilling
Available for both low and high-capacity cars
Lighter and easier to put in place
Reduced risk of oil contamination
An option between holeless-two stop, holeless-three stop, or holeless-four to five stops.
Hydraulic Elevator Maintenance Plans and Repairs
If your residential or commercial elevator repair is acting up, you'll want to have the issues resolved as soon as possible. When you work with Carson Elevator LLC in Salt Lake City, UT, our team will work quickly and efficiently so you'll have your elevator back and working in no time. We typically recommend that property owners have their elevators serviced at least once every month, depending on the frequency of use. Along with this monthly maintenance, you will also need to set up a safety inspection and repair service on an annual basis. Yearly inspections by our seasoned technicians will help to catch any significant safety issues that could arise in your home or business. At Carson Elevator LLC, our motto is "It's better to maintain than to have to repair it!" which is why we offer comprehensive elevator repair maintenance plans to support our customers in properly maintaining their residential or commercial elevators. Some frequent problems we see with in-ground and holeless elevators needing repairs include:
Slow operation
Excessive energy use
Loud and unusual vibrations or noise
Jerky movements
Long wait times
Failure to level with the floor
If you begin noticing any of these problems, call Carson Elevator LLC right away. Catching these issues early will likely result in low-cost maintenance services rather than the need for large-scale elevator repairs.
Providing Elevator Services Since 1983
By choosing Carson Elevator LLC, you're guaranteed to get the best elevator installation services Salt Lake City, UT has to offer. Our entire team is highly skilled and committed to each project they receive, working quickly to identify any problems and fix them accordingly. As your selected elevator repair company, we understand how valuable your elevator is to your home or business. You can trust us for every job! Contact us at (888) 806-1279 to get started.
Utah's Elevator Experts
Free Consultations
Locally Owned & Operated
Over 30 Years of Experience
Non-Proprietary Equipment
Residential & Commercial Services
No Long-Term Service Contract Required