Accessibility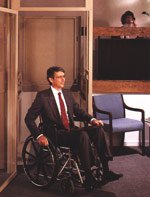 Wheelchair Lifts:
Wheelchair lifts can be installed indoors as well as outdoors. They are designed to eliminate the problems that stairs create for people with physical limitations. Wheelchair lifts are perfect for churches, schools, meeting halls, offices, and homes.
Package Lifts:
Package Lifts are an inclined stairway lift system that's designed to carry packages from floor to floor with ease.
Eliminate the problems of back strain and aching muscles while reducing the risks of accidents and injuries.
Utah's Elevator Experts
Free Consultations
Locally Owned & Operated
Over 30 Years of Experience
Non-Proprietary Equipment
Residential & Commercial Services
No Long-Term Service Contract Required