Residential Elevator Installation in Salt Lake City, UT
Commercial Elevator Installation by Carson Elevator LLC
At Carson Elevator, we offer many elevator solutions for your Salt Lake City, UT business, or home's specific needs. Our accessibility elevators are top-of-the-line and provide convenience in your residential property and inclusiveness for your commercial property. Additionally, all of our options are available to come with preventative maintenance plans and repair services. For over 30 years, we have been servicing homes and businesses with exceptional elevator installations. Our skilled designers can make customized products that are the perfect fit for your home or business's unique needs.
Carson Elevator LLC's Available Options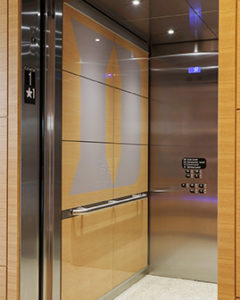 Hydraulic elevators are elevators that are powered by a piston that travels within a cylinder. An electric motor works to pump hydraulic oil into the cylinder in order to move the piston, which works to lift the elevator cab. Electrical valves control this release of oil to create a gentle descent. Hydraulic elevators are usually used in buildings up to five or six stories high and can operate at speeds up to 61 meters (200 ft) per minute. The three types of hydraulic elevators are:
Roped hydraulic elevator – These types of systems do not need a below-ground cylinder and have the piston attached to a sheave that has a rope passing through it. One end of the rope is attached to the car and the other is fastened at the bottom of the hoistway.
Holed hydraulic elevator – In holed hydraulic systems, the elevator car is mounted on a piston that travels within a cylinder. The cylinder extends into the hole to a depth that is equal to the height the elevator will rise. As hydraulic fluid is pumped into the cylinder through a valve, the elevator car will rise, and as the fluid returns to the tank, the car will descend.
Holeless hydraulic elevator – Holeless hydraulic elevators use a direct-acting piston mounted inside the hoistway to raise and lower the elevator car. This design utilizes two jacks, one on each side of the car, positioned between the platform and the hoistway wall.
Click below to view the brochure

Hydraulic Elevator Installations
If you've been considering residential or commercial elevator installation in Salt Lake City, UT, our qualified contractors would be happy to assist you. We offer safe and reliable services that will give your home or business the accessibility options you desire. The hydraulic elevator installation process will typically include:
Dig the elevator pit – The first step in hydraulic elevator installation is creating the pit. Pits must be dug a few feet below the ground floor to accommodate the type of hydraulic elevator. After the pit is dug, another hole must be dug to house the piston cylinder. Once these two holes have been dug and secured, landings will be assembled.
Assemble the landings – Landings are made by cutting large holes into the walls where the elevator will make each stop.
Build the hoistway – The hoistway can be built offsite or onsite. After the hoistway is built, the cylinder, piston, and pump can be installed. The pump will either be installed in the pit or a separate machine room and after it is assembled, it will be attached to the moveable piston.
Secure the elevator car – After the hoistway has been assembled and the pump is attached to the piston, we secure the elevator car and hook up the hydraulic power. Electrical disconnects must be installed to supply power, hydraulic oil is added to the fluid tank, and piping is installed between the elevator jack and power unit.
Ensure Safety – Self-closing and locking doors, climate control, emergency lights and communication, smoke detectors, and more can be installed to add an extra level of safety to your residential or commercial elevator.
Our technicians can not only install your hydraulic elevator quickly, but we also offer non-proprietary service with no long-term service contracts when you choose us for elevator installation.
At Carson Elevator LLC, we want to make sure every home and business has available accessibility options for those with mobility issues. No matter the needs of those in your home or business, we can bring lift accessibility to you and your home or business. Along with our accessible elevator options, we also provide wheelchair lifts for a more versatile selection. Wheelchair lifts can be installed inside or outside of your residential or commercial property, and are designed in three different designs:
Platform lift: A platform lift is the most common, with the simple goal of transporting the wheelchair straight up over a vertical barrier, such as a staircase. Usage is straightforward, as you have to wheel onto the platform, push a button, open the door, and you're over the barrier.
Incline lift: As another option, incline lifts are perfect for those who are short on space. These lifts are installed directly on top of the staircase and can be moved so others can also use the stairs.
Additionally, having accessibility elevators installed in your commercial building offer convenience and inclusiveness to all who enter your business, which is a crucial component when complying with Americans With Disabilities Act (ADA) standards. At Carson Elevator LLC, we understand the importance of accessible elevator installations within a business because they work to create an inclusive environment and guarantee that no one is denied access to any part of your commercial building. They can also help business owners avoid fines that result from a failure to comply with ADA standards.
Carson Elevator LLC also provides many businesses peace of mind when needing to transport heavy packages. Package lifts are great elevator accessibility choices, as they are designed with aching muscles and back strain in mind. They can be installed anywhere that receives packages and works to eliminate accidents and injuries caused by attempting to carry heavy equipment up and downstairs.
Residential and Commercial Elevator Benefits
While the benefits of installing an elevator in your residential or commercial property are boundless, we have collected a few of the most common reasons customers decide to make this investment:
Property value – You can significantly increase the value of your property by installing an elevator. Potential buyers will love the accessibility and opportunity it will provide for their home or business.
Functionality – You no longer have to worry about carrying heavy groceries or packages up multiple levels, as getting an elevator installed within your home or business will save you both time and energy.
Safety – Elevators eliminate the risk of stair accidents, especially for children and the elderly. Elevator installation will make navigating your home or business safer than ever.
Style – Having an elevator installed in your home or business is not only convenient, but it also gives off an air of sophistication. At Carson Elevator LLC, we can design beautiful elevators to match your home or corporate esthetic.
We Offer Free Consultation!
If you would like to learn more about our elevator options and schedule a free consultation, call us today at (888) 806-1279. Our seasoned contractors can make customized products that go perfectly with your residential or commercial space and your specific needs. We look forward to working with you!
Utah's Elevator Experts
Free Consultations
Locally Owned & Operated
Over 30 Years of Experience
Non-Proprietary Equipment
Residential & Commercial Services
No Long-Term Service Contract Required