---
Residential Elevators
Today's designers of new and renovated homes frequently incorporate space in their plans for residential elevators. A specially-designed and custom-built unit will make your home more livable and saleable should you ever plan to move.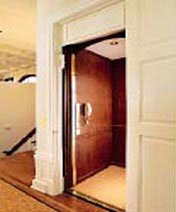 Once you've decided that you're going to install a Carson elevator in your home, design choices open up for you. Wall finish options range from basic, easy-care melamine to hardwood veneers of birch, maple, oak, or even solid cherry raised panels.
Choices also abound for lighting, gates, columns, dome finish, fixtures, and hand rails.
Want more information? View Our Brochures

Residential Roped hydraulic information
Residential Cable drive information
---

Multi-Lift vertical platform lift
---
V-1504 Vertical Platform Lift
---
Lux & Prestige Brochure
---
Delta Inclined Platform Lift
---
Omega Inclined Platform Lift
---
Utah's Elevator Experts
Free Consultations
Locally Owned & Operated
Over 30 Years of Experience
Non-Proprietary Equipment
Residential & Commercial Services
No Long-Term Service Contract Required