Trust Our Salt Lake City, UT Elevator Services
Carson Elevator Can Install a Household Vertical Lift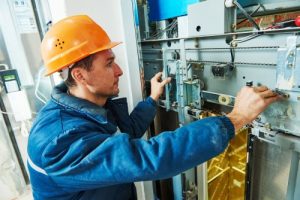 If you require a more wheelchair or disability-friendly home, then a vertical lift may be right for you. Carson Elevator specializes in selling and installing lifts throughout Salt Lake City, UT. Our elevator services help homeowners live in comfort and without hindrances. We're proud to help those with mobility issues live an easier life at home. At times, our services can enable individuals confined to a wheelchair or walker to remain in the home they've enjoyed for decades. If you're a homeowner who requires a more accessible house, then your next call should be to a general contractor. The general contractor will examine your home and determine the best location for the lift. They will contact us to give us the measurements. Once that is done your contractor will help you pick out the finishes.
What is a Residential Vertical Lift?
Vertical lifts provide property owners with a way to provide access to upper and lower levels of the home that might not be possible without them. They function like elevators and can lift heavy load capacities at lengths from inches to over ten feet. More importantly, vertical lifts are versatile, meaning homeowners can choose a lift that functions the way they need it to. They're best utilized in homes where raised surfaces are too tall for a ramp to suffice.
I've Decided to Install a Lift What Are My Options?
If you've decided to purchase and install a vertical lift in your house, then there are plenty of options available to you. Vertical lifts come in numerous sizes and configurations, which is perfect for individuals with unique needs. Generally, we can install one of three broad categories of vertical lifts. It is important to note we can customize each type of lift to suit your needs. Our lift options include the following:
Open-Enclosure Lifts: Open-enclosure lifts are the most straightforward and cost-effective option Carson Elevator sells. Typically, they're comprised of the lifting mechanism and a platform. The platform won't have walls on the side, which doesn't always make it ideal for individuals who require their lift to transport them high distances.
Enclosed Lifts: These lifts will look and feel more like elevators and are perfect for outdoor lifts, which might take you from the ground level to a raised, second-level porch or deck. They're also deployed in homes where occupants desire access to their second floor. The enclosed lift delivers extra safety that's not as possible with an open design. We can install one with glass sides or non-transparent sides.
Hoistway Lifts: Also called shafts, hoistway lifts feature a cab – like in an elevator – and a series of pulleys and mechanisms which work together to lift individuals to the upper levels of their homes. Though they are similar to home elevators, hoistway lifts are much cheaper to install than an elevator.
Multi-lift Vertical Platform Lift
V-1504 Vertical Platform Lift
Outside Vs. Inside: What You Need to Know
Depending on your needs, you can choose an outdoor or indoor lift. Whichever you choose depends on a variety of factors, including the layout of your home and where you need the lift to take you. We usually install outside vertical lifts for homeowners who require easier access to a driveway or ground-level entry door. In these cases, an open-enclosure model might work best. Indoor units are best deployed in multi-level homes where the occupant is unable to easily access the upper levels of the home.
What Do I Need to Know About the Installation Process?
During the sales process, we'll ask you about your needs. How many floors does your house have? Do you want access to the upper levels? Do you need easier access to your front door? Do you miss reaching your deck from the yard? Answering these questions enables us to customize a product that works for you and your unique needs. We pride ourselves on finding solutions for our customers and not shoehorning them into something they don't want. As for the installation process, you shouldn't attempt to install a vertical lift on your own. Doing so incorrectly could lead to collapse and injury, so it's best left to the professionals at Carson Elevator. However, we're careful to respect your space and time, performing all the necessary installation tasks as quickly as possible. Some key facts to consider include:
Our professional installers understand local codes and safety procedures.
We install a solid surface gate at the top landing, which eliminates potential pinching risks.
Carson Elevator might need to install a fascia below the deck to prevent other pinching risks.
We reinforce the entire lift to a concrete slab, ensuring it never tips over during operation.
While vertical lifts are safe for personal use, they should never be used to haul freight or heavy machinery.
Get in Touch with Carson Elevator for Elevator Services
Carson Elevator has years of experience providing exceptional service to our clients. We understand the importance of delivering careful, but speedy service. We know how anxious you are to gain further independence in your home, and we're proud to provide it to our neighbors in and around Salt Lake City. In addition to performing wheelchair-accessible vertical and incline lifts, our team repairs and installs commercial elevators in properties of all kinds. Whether you require modest repairs to an existing lift or elevator, or you need a brand-new installation, we can help.
Utah's Elevator Experts
Free Consultations
Locally Owned & Operated
Over 30 Years of Experience
Non-Proprietary Equipment
Residential & Commercial Services
No Long-Term Service Contract Required