Thinking of installing a new elevator in your home in Salt Lake City? It's a smart investment. A residential elevator boosts the value of your home, and will be a compelling feature for potential buyers if you ever decide to sell your house. Custom-built residential elevators can be designed to blend in well with the home's décor. Many homeowners enjoy the look of hardwood veneer or solid cherry panels to complement their design scheme.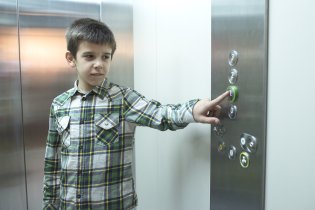 Is it safe to install an elevator in my home?
There are some safety concerns inherent with all elevators, including residential units. However, you shouldn't experience any major problems if you choose to work with a licensed elevator contractor who only installs elevators that have met all of the necessary safety requirements.
Is it possible for an elevator to increase a home's safety?
Yes, there are a number of benefits of having a residential elevator. A lift allows individuals and couples to age in place safely. There's no need to worry about falling down the stairs and sustaining a permanent disability. Younger homeowners may decide to install a lift in anticipation of having their aging parents live with them at some future date. Transporting heavy objects between floors is easy with a home lift—no more straining your back and injuring your wrists trying to carry furniture up the stairs. Plus, having a home elevator can be a lifesaver if anyone in the family ever needs major surgery that results in long-lasting movement restrictions.
What happens if the elevator malfunctions?
Just like commercial elevators, residential lifts need to be properly maintained. You can reduce the risk of a malfunction by scheduling an annual inspection, and by requesting service calls whenever there appears to be a change in the unit's proper functioning.
Is it safe to have a lift in a home with young children?
It's always necessary to childproof a home when a young child lives there, regardless of whether or not the house features an elevator. Additional safety precautions do need to be taken for lifts. Talk to your elevator contractor about minimizing the space between the gate of the unit and the swinging exterior hoistway. Making this gap as small as possible will prevent a child from becoming entrapped. Additionally, you could always ask the contractor to install a door lock.